ISLAMABAD (AFP) – Former prime minister Nawaz Sharif on Sunday held a farewell meeting with the PM House staff member before leaving for Murree with his family.
---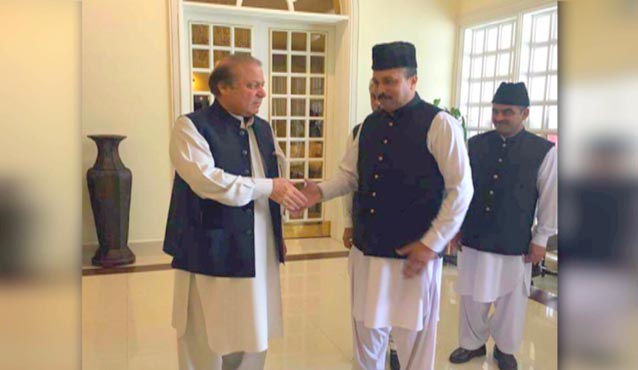 ---
Earlier, Nawaz Sharif called on Ishaq Dar and discussed options pertaining to challenging the Supreme Court's verdict regarding his disqualification in the Panama Papers case.
---
On Saturday, the ousted premier named his younger brother Shehbaz Sharif, the chief minister of Punjab province, as his successor and nominated ex-oil minister Shahid Khaqan Abbasi as an interim premier.
"I support Shahbaz Sharif after me but he will take time to contest elections so for the time being I nominate Shahid Khaqan Abbasi," Sharif said in a televised speech to his party.
The younger Sharif — who has so far been unscathed by the corruption allegations engulfing his brother's family — holds only a provincial seat, so must be elected to the national assembly before becoming the new prime minister.
But observers viewed the decision as a continuation of dynastic politics of Pakistan.
"The nomination of Shehbaz Sharif as the next prime minister won't bring political stability, it will strengthen the culture of dynastic politics," political analyst Abid Hassan told AFP.
"How can they not find one single individual in the whole party for the post of prime minister," he said.
Earlier Saturday the Election Commission of Pakistan confirmed fresh elections would be held in Nawaz Sharif's former constituency, in the family's power base of Punjab province, in a process which could take up to 45 days.
Considered more intelligent but less charismatic than his older brother, Shahbaz Sharif has controlled Punjab — Pakistan's most populous and prosperous province — for much of the last decade, presiding over a series of big ticket infrastructure projects.
Abbasi is set to be rubber-stamped as placeholder in a parliamentary vote, with Sharif's ruling Pakistan Muslim League-Nawaz (PML-N) commanding a majority in the 342-seat house..
An electrical engineer and the businessman who launched Pakistan's most successful private airline, Air Blue, Abbasi is considered a highly-intelligent Sharif loyalist who has been elected to the national assembly six times since 1988.
The opposition could also field a candidate for the premiership, though the nominee has little chance of getting sufficient votes.
2017-07-30