(Web Desk) – Britain's Muslim clerics are going to set up their first national council in which the most senior imams are to issue progressive religious rulings in order to "embed Islam in a 21st-century British context."
Qari Asim, one of the prominent imams in Britain, said the authority will promote an interpretation of Islam in line with British values, reported The Guardian.
Asim, who is the chief imam of Makkah mosque in Leeds, said British Muslims needed an authoritative and credible voice that could speak out on the issues as diverse as terrorism, organ donation and Islamophobia.
"People are proud and confident of their religious identity as well as their national identity, but at times they're not getting enough theological or doctrinal guidance on some of their daily issues," he said.
The council will be the first central religious authority for British Muslims which will have senior imams who will be in charge of consulting experts on issues.
"This is about providing clarity on some of the sociopolitical issues, whether it be forced marriages, [female genital mutilation], honour killing," he said.
"These practices are not sanctioned by the faith Islam but they are cultural practices that have penetrated the Muslim community of particular backgrounds.
"The attempt is to embed Islam in a 21st-century British context. It's about contextualising Islam in Britain."
Qari Asim, 39, has been working hard to build bridges between communities in Leeds since the July 7 2005 terror attack. He has been recognised on the Queen's birthday honours list in 2012.
---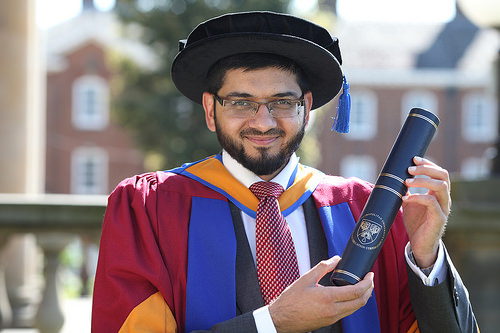 Mosque leader Qari Asim, who has worked tirelessly to build bridges between communities in Leeds since the 7/7 terror attacks is an honorary Doctorate of Laws from Leeds Metropolitan University. Photo: Leeds Metropolitan University
---
Asim has been vocal against forced marriages and domestic violence. He's seen as one of the young leading forward thinking person in the British Muslim Community. He is more positive towards the council's role in making rulings in a similar way to national religious bodies which operate in many Sunni Muslim countries, but it will act independent of the government.
"It would lose credibility if it was state-backed or state-influenced," Asim said. "The intention isn't to have a mouthpiece for the government. It's about providing a credible, authoritative voice for Muslims."
Asim said: "We see the need for this as Muslims are continually being asked to speak on behalf of other Muslims. It's a council that will be able to speak on behalf of other Muslims and also challenge the establishment where needed.
"We want to protect our young people from the extremist narrative [of those] who are brainwashing and recruiting them, but at the same time we want them to feel comfortable and confident in their national heritage and uphold the values of democracy, rule of law, justice and compassion."
2017-08-21