(Web Desk) – Jordan has inaugurated the largest solar park to operate in a refugee facility, aiming to improve the lives of tens of thousands of Syrian refugees at the Zaatari desert camp.
According to AFP, 4,000 solar panels with a total capacity of 12.9 megawatts are designed to provide 14 hours of electricity a day to Zaatari's 80,000 inhabitants, according to the United Nations High Commissioner for Refugees.
The project was financed by Germany at a cost of $17.5 million.
The UNHCR has previously been providing eight hours of electricity a day, costing $500,000 a month, said Stefano Severe, the agency's representative in Jordan.
"With this solar panel plant and this grant from Germany, UNHCR will be able to provide 14 hours with zero cost," he said at a ceremony at the camp. He said the savings would be used to improve other services in the camp.
---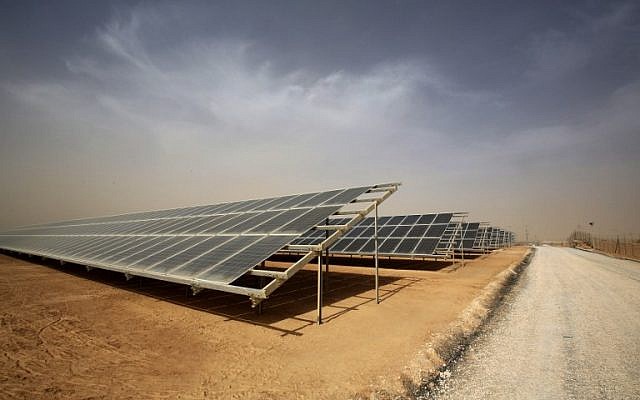 A general view shows part of a new 15 million euro solar plant during its official inauguration at the Zaatari refugee camp in Jordan. Photo: AFP
---
The additional hours of electricity would improve the refugees' lives "by giving more opportunities for the kids to study in the nighttime, for people to store food in their fridges, to communicate with the outside world", said Severe.
In May, Jordan scored a world first for a refugee camp powered by renewable energy, according to the UNHCR, when it opened a two-megawatt solar plant in Azraq which is home to 35,000 refugees from the war across the border in Syria.
"Electricity is very important to us, it is needed by men, children, women, everyone needs it during the day," Syrian refugee Anwar Hussein told Reuters TV.
"When we have electricity during the day, our children can stay home, they don't go out in this weather and play in the dust and mud," said Hussein, who has lived in Zaatari for nearly five years after fleeing the capital Damascus.
From nearby Azraq camp in Jordan, to Dadaab in Kenya, solar power is being deployed to provide affordable and sustainable energy solutions for tens of thousands of displaced people.
In semi-arid eastern Kenya, Africa's largest solar-powered borehole – equipped with 278 solar panels – is providing 16,000 refugees in Dadaab camp with a daily average of about 280,000 litres of water, which they use for drinking, cooking and personal hygiene, according to the European Commission.
Yet while access to clean energy for refugees and their host communities is a global priority for UNHCR, analysts say millions of displaced people still lack access to sustainable, cheap energy sources because of a lack of funding.